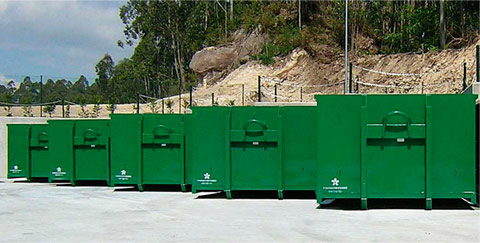 OPEN BOXES MULTILIFT
- Different types of boxes for storing medium-density, construction or wet waste.
- Can be handled using standard towing equipment (Cayvol – Multilift – Ampliroll – etc.)
- Non-stick chamfers where flat surfaces meet.
- Continuous strip welding to prevent incipient rusting.
- Frame: long beams in IPN 180; cross beams (ribs) in IPN 80; pin 500mm; rollers with a diameter of 170mm x 330 mm long with lubricators.
- Box: sheet metal base of 4mm; sheet metal sides of 3mm; side ribs in folded sheet metal; folding doors with safety locks.
- Surface finish: first coat of antioxidant primer, second coat of synthetic gloss.
- Boxes also available with awnings, canvas or special doors.
- Bespoke boxes for special uses and requirements.
- We can also supply truncated boxes with chain guards for rubble.